Open Technology Summit 2008, Teipei/Taiwan, April 25 to 29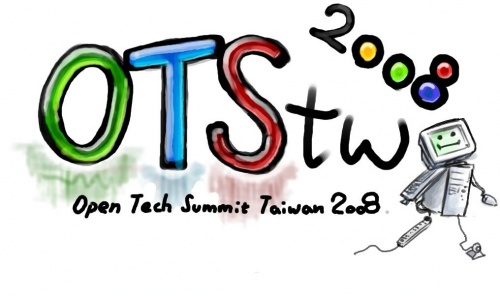 The main idea behind this summit was to create a community feeling for our cause and then use the synergy created to spread the idea of open source (free software and hardware) development in Taiwan. The summit spanned 5 days (25th – 29th of April) and was hosted at 4 different places.
The conference was organised by the "Open Hardware Initiative (OHI)" – mainly by Marek Lindner and local supporters. 2 of those days were allocated to local universities and 2 days were termed as ASUS days. ASUStek Computer ( manufacturers of Eee PC ) played co-hosts for the conference. Our mission was to make Taiwaneese OEM's and academia understand better the concepts and ideas behind FOSS, and make them use it inside their devices.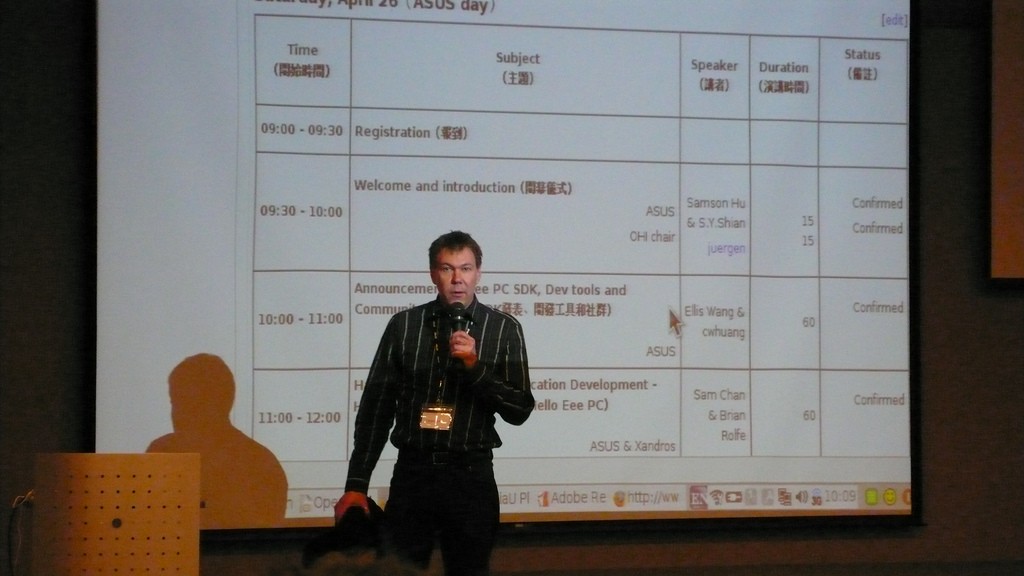 Ellis Wang the Eee PC product manager started the conference with me and Marek. I gave an introduction and a warm welcome to everyone in the role of OHI Chairman, holding a "Tux" in my hand, which I later bestowed to Bellring Sheng who works for ASUS and was responsible for a lot of support and ground work. You can find my presentation about Open Hardware here:  OHI_Presentation_TW_20080425_jpn.pdf
On the one hand we had invited a bunch of more or less "western" people to present FOSS projects and culture, e.g. Martin Michlmayr from Debian, Xavier Carcelle, Florian Fainelli, Sébastien Bourdeauducq plus others from Open Pattern, Pradeepto from KDE, Brian Rolfe from Xandros, Seb and Ian from Amarok, Harald Welte from Open Moko, …, on the other hand we tried to pull in the people from the small local Open Source Movement, such as Hong Jen Yee (PCMan) from LXDE, Andrew Lee – a local free open source software developer and Debianer and KJ from the Taiwanese Wikimedia Project: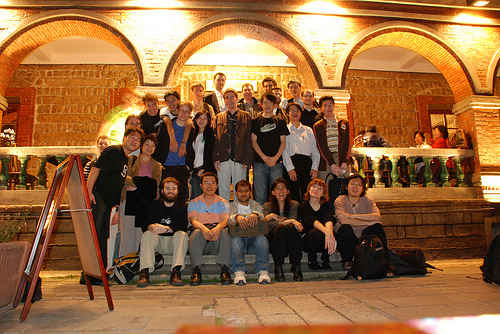 In the second part of our mission we tried to spread the FOSS spirit by visiting two Universities and also having a lot of sidetalks with various people from Tainwan's OEM industries. Amongst my personal highlights was a spontaniuos personal invitation from director of ITRI – the national Industrial Technology Research Institute, where I got the chance to present freifunk.net and discuss open source theory with the entire board of directors. Also I really enjoyed to finally meet Joy Tang in Taiwan again and that I had the chance to get know some of her friends. She finally gave me my Chineese name 'Lei' – a group of stones or rock – also associated with my second name 'Peter':

Links
http://www.sebruiz.net/327
http://pradeepto.livejournal.com/14232.html
http://pradeepto.livejournal.com/14501.html
http://pradeepto.livejournal.com/14805.html
http://pradeepto.livejournal.com/14968.html
http://laforge.gnumonks.org/weblog/2008/04/26/
4,438 total views, 1 views today