WSFII prepconf – World Summit on Free Information Infrastructures
London 2005
From the archives:
When: Saturday 1st & Sunday 2nd of October
Where: Limehouse Town Hall, 646 Commercial Road, London, E14 7HA
On the first weekend of October (1st and 2nd) the World Summit on Free Information Infrastructures is taking place in London. This event will bring together individuals and groups from across the world working on projects such as free wireless networking, free of copyright mapping and open hardware. It is also part of a larger season of events based around alternative approaches to knowledge production and access and timed to coincide with the UK's hosting of a pan-European Creative Economy conference.
---
The WSFII prepconf meeting at the Limehouse Town Hall in London was a very important milestone for the further development of Free Information Infrastrucures Communities. To me it had three major outcomes:
Consensus for a Memorandum Of Understanding
We managed to write down these lines: "We declare, as an ongoing international process of multiple, local action oriented events which provide space for people to come together, to share experiences, present practical solutions, to learn and to build, all kinds of Free Information Infrastructures
The Birth of Wireless Networking in the Developing World
This is a free book about designing, implementing, and maintaining low-cost wireless networks. The initial booksprint started in London. In the meantime this book has been a striking success. It is available in 6 major languages at  https://wndw.net .
The guts to take WSFII to India 
The meeting in London was full of the right people at the right time. We were discussing very straight and honest if we could organize an international event in India in the next year. Even though we did not reach this goal quite the way we had planned it, we finally made it to Dharamsala.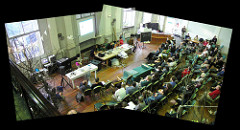 2,387 total views, 3 views today